Kazuhiko KAKAMU
Professor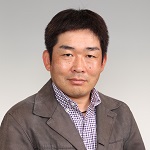 Education, Degree
Ph.D. in Economics, Osaka University, 2007
M.A. in Economics, Kobe University, 2002
B.A. in Economics, Nanzan University, 2000
Professional Experience
2023/04 — Professor, School of Data Science, Nagoya City University
2021/04 — 2023/03 Professor, Graduate School of Economics, Nagoya City University
2018/04 — 2021/03 Professor, Graduate School of Business Administration, Kobe University
2015/04 — 2018/03 Associate Professor, Graduate School of Business Administration, Kobe University
2014/04 — 2015/03 Associate Professor, Faculty of Law, Politics and Economics, Chiba University
2009/04 — 2014/03 Associate Professor, Faculty of Law and Economics, Chiba University
2007/04 — 2009/03 Assistant Professor, Faculty of Law and Economics, Chiba University
Research Fields
Bayesian inference, Markov chain Monte Carlo methods, spatial econometrics, and income distribution
Research Interests
Selected Publications
Kobayashi, G., Yamauchi, Y., Kakamu, K., Kawakubo, Y. and Sugasawa, S. (2022) "Bayesian approach to Lorenz curve using time series grouped data," Journal of Business & Economic Statistics, 40, 897-912.
Feldkircher, M. and Kakamu, K. (2022) "How does monetary policy affect income inequality in Japan? Evidence from grouped data," Empirical Economics, 62, 2307-2327.
Ohtsuka, Y., Oga, T. and Kakamu, K. (2010) "Forecasting electricity demand in Japan: A Bayesian spatial autoregressive ARMA approach," Computational Statistics & Data Analysis, 54(11), 2721-2735.